Have you ever felt like you just needed a listening ear; someone you could truly engage with, to help critically reflect on your teaching practice? Ever thought that if you had that mentor, you might be able to achieve those blue-sky dreams and nothing would hold you back professionally? Lucky for Heather Eccles, that's exactly what happened when she engaged in the Virtual Learning and Professional Development (VPLD) programme.
The VPLD initiative was instigated in October 2009, trialled and evaluated in 2010 and has continued to grow to date. In 2015, there are four funded part-time virtual mentors (total of 1.7 equivalent full time staff). 
The aim of the VPLD programme and associated research study, has been to develop a model of Professional Learning and Development (PLD) for education practitioners based on authentic and meaningful learning and teaching contexts using virtual tools and services. Each participant is partnered with a virtual mentor with whom they meet online once a month for an hour. Mentoring strategies are customised to suit the needs of both the mentee and the mentor, and during meetings a variety of subjects are discussed including pedagogy, what the participant has been working on, and how things have gone. The participant also identifies areas of support they need, and plans next steps and interim goals. Key foci have been:
student achievement
improving capability of participants
development of effective online communities of practice
the use of virtual mentoring
working with the wider education community
For more information about the VPLD programme, see Table 1 in VPLD: Developing a Future-focussed Model of PLD.
VPLD: From mentee to mentor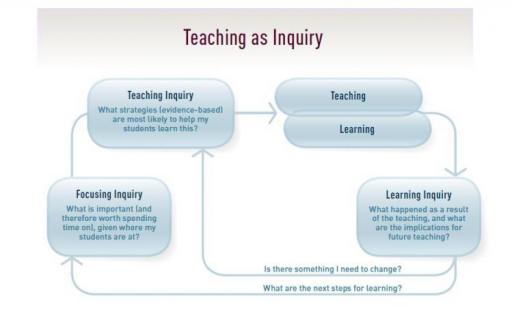 Heather was teaching several yr 9 classes across a large secondary school, with a focus on preparing and moving the students towards achieving NCEA. Data tracked during this time showed significant deficiencies for boys and in particular, Māori boys - where results indicated students were obtaining 10-15 NCEA credits after completing Year 11. Along with deficit reading ages (some as low as 6yrs), poor writing skills, behavioral issues and challenges beyond the school, observations indicated that these students were not being well-served, and were on a 'downward spiral' with serious limitations both academically and with future career pathways. In addition to this,  Heather (after  5 years of teaching) was fast becoming, "disillusioned, exhausted and uninspired" with thoughts of leaving the profession altogether. The same time alarming trends were emerging in achievement data, the school was approached to engage in the VPLD programme. The Deputy Principal offered Heather the opportunity to become part of the virtual mentoring programme, which Heather immediately accepted. Image source: http://nzcurriculum.tki.org.nz/The-New-Zealand-Curriculum/Effective-pedagogy
Engaging in VPLD
Heather was paired with a remote teaching mentor and was supported virtually via email, Skype, Ning and the VLN. Interactions grew to include other VPLD mentees - both Face-to-face (national hui) and online in the VPLD online CoP (Community of Practice).*1
Heather was inspired by the other VPLD mentees who were, ''pushing the boundaries and solving really complex problems where the students were at the heart of everything they were doing." This reinvigorated Heather to go back to university to pursue a post-graduate diploma in e-learning and digital technologies. Heather had a particular interest in 'giving students a choice and a voice' and was motivated by studying about the effective pedagogy of e-learning to support this focus. Her resounding belief was that, "everyone had a right to achieve and these students were currently being underserved." 
As time went on, Heather shared her stories, observations, data (qualitative and quantitative), passions and queries. Having a mentor external to her own school enabled Heather to engage in rich and fertile conversations where 'what if' scenarios helped to create a new language of possibilities. Honest dialogue helped to grow Heather's confidence and new goals were formed, which enabled her to develop, consolidate and pitch ideas (beyond traditional contexts) to her senior leaders. Heather acknowledges how important her mentor was throughout this process.
One sound idea that came to fruition was a class for 'life skills, community and careers', which management agreed to and Heather instigated as a pilot programme. The 'Life Skills' course personalised and differentiated the learning for students, particularly the pace of learning, where authentic real world problems helped to equip students with basic literacy (writing emails, letters) and maths skills (simple accounting). There was also a focus on communicating and connecting with the wider community across the curriculum. Heather explains more about the project in her sound recording on the left.
There were challenges along the way, but Heather observes that having an impartial mentor outside the environment of the school helped to support and sustain her as she worked towards achieving her goals.
The results
The Life Skills initiative was underway for one year before Heather moved schools, and during that time evidence showed quantitative and qualitative shifts in student attitude and achievement which included:
Student shifts
increased student attendance
growing sense of self-regulated learning
students gained credits in other areas of the curriculum
School community shifts
teachers throughout the school were more aware of the Life Skills course and its potential
students and teachers started using more technology in the classroom as the pedagogy (personalisation, choice, pace) behind it grew
technology was used to collect student voice (particularly Māori and Pasifika students) and shared with the Deputy Principal
examples of Māori and Pasifika student voice were then shared with staff to help inform changes in programmes for these students
Teacher shifts 
Having a mentor has helped to validate Heather's ideas and abilities and affirm that she was on track. She says, "Sometimes I wonder if the VPLD programme hadn't come along, would I still be here today, and ... would I have given up on my goals a lot earlier?" Hear more about Heather's thoughts about VPLD mentorship programme in her sound recording on the left.
After five years of being involved with the VPLD Heather has grown from mentee to mentor and currently mentors five people. Heather is an active member of an educational trust, is currently completing her post-graduate studies and is moving towards starting her Masters. Heather has worked in Ormiston College with a focus on Modern Learning Environments, was invited to apply for her current position as an e-facilitator for Breen Bay High School introducing BYOD.. One of her greatest accomplishments is taking time to be a mum to her 18 month old boy.
On reflection
Being part of a powerful mentoring programme has enabled Heather to gain the confidence to be innovative and creative as a teacher to better meet the diverse needs of her priority learners. She says, "My mentor planted a seed and grew that in me." One key word for Heather is transformational for herself and her students. Hear more about Heather's reflection on transformative practice in her sound recording on the left.
Thoughts for the future
Heather asks, "How many teachers are out there, just like me and how can we mentor everyday classroom teachers to be inspired like I have been?" Want to know more? For more information, visit the Virtual Professional Learning and Development page or contact Merryn Dunmill.
Rick Whalley and Merryn Dunmill talk more about VPLD from EDtalks on Vimeo.
*1 The VPLD Ning community is an active space, with 380 members at April 2015, which offers a safe environment to discuss and challenge theories, and views about pedagogy and practice - an aspect that appears to be enhanced by the participants' eclectic combination of disciplines and sectors. Social structures (including agreements about interactions, processes, norms, and rules) are negotiated on an ongoing basis. http://ro.ecu.edu.au/ajte/vol39/iss1/9/